Your Meeting Cockpit
All About Decisions
Creating presentation and minutes takes too much time?
Do you have to many todos?
Do you search your documents in your mailbox?
CONTEXT solves the problem with links!

One source only
Fast decision making
Clear responsibility
CONTINUOUS IMPROVEMENT
Execute your plan
Create the business plan
Make sure to reach your objectives
Assign responsibility
Check status and progress
Benchmark performance More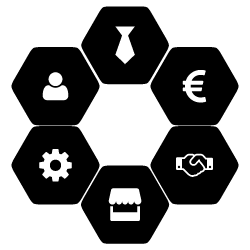 Design Your Cockpit
The cockpit combines all subjects
It is not about figures only, but about everything that matters
It is about taking decisions and communicate them
It is not the IT that designs your cockpit but your team
More
sixPAC Measures Your Management Quality
Is the subject shortly described?
Is the objective defined?
Is it checked?
Is there a plan B?
Is somebody interested?
More

CONTEXT automates your management
Every subject is tracked
CONTEXT reminds you periodically to check
You stay responsible - the computer supports you
More
Up to date - anytime, anywhere
Follow the subjects you are interested in
See immediately what happens
Use chat for direct feedback
Invite other people to join the discussion More

All in one and always in the right context
Indicator tracking, risk management, SWOT analysis, five forces
Order and project management
Customer and supplier management
Auditing, legal compliance and checklists
Complaints and incident management
Backed with an ISO compliant document management system
More